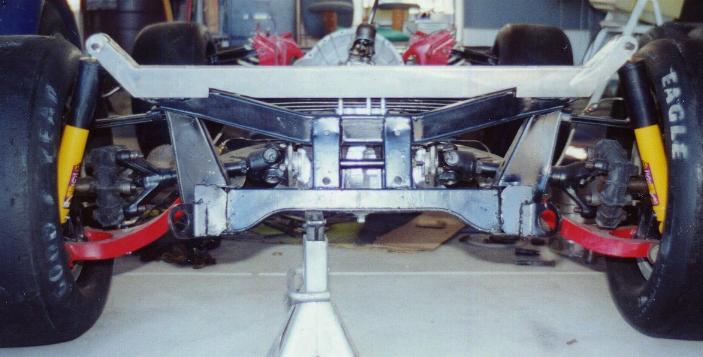 This photo illustrates the Race Only shock bracket. It accommodates tires as large as 22.5x7.5-13 cantilevered Slicks (as shown).
GT6 Rear Shock Mount Brackets
On the GT6's with Rotoflex suspension the shock mounts are normally welded onto the inside of the wheel wells. While this is ok for most street purposes, the shock mounts are not really strong enough for racing. What's more, the stock mounts restrict the size of tire that can be used, because extremely wide tires will rub against the shock absorber.
So, I have designed two different brackets to solve the problem. The first is a "Race Only" bracket that requires some cutting of the inside bodywork in order to fit the body over the bracket. The other is a more modest design that still attaches to the frame but does not require as much cutting and ends up being in approximately the same place as the stock bracket, but because it doesn't attach to the fender well, it is much stronger. The very bottom of the inside fender well requires trimming so that it fits over the "street" bracket. This modification is not outwardly visible and does not interfere with the inside of the trunk area. GT6's need to have the old bracket and reenforcement plate removed for clearance.
This product is no longer being manufactured due to the increased costs of steel and the number that have to be made in order to be affordable. However, anyone who wants to make their own street version should contact me at spitlist@cox.net. I will send the engineering drawings free of charge.